Anti Aging Treatments in Delhi, Best Clinic:
Anti Aging Treatment in Delhi, Adorable Clinic is one of the best in Delhi NCR that offer affordable Skin Treatments to address your skin concerns and dramatically improve the overall tone and texture of your skin.
We are experts in helping you rejuvenate and enhance your skin and to maintain a youthful and healthy appearance with our range of non-invasive treatments.
Opening Hour and Location
| | |
| --- | --- |
| Monday | 10:00 AM - 7:00 PM |
| Tuesday | 10:00 AM - 7:00 PM |
| Wednesday | 10:00 AM - 7:00 PM |
| Thursday | 10:00 AM - 7:00 PM |
| Friday | 10:00 AM - 7:00 PM |
| Saturday | 10:00 AM - 7:00 PM |
| Sunday | 10:00 AM - 7:00 PM |

Adorable Clinic's Commercial for Anti Aging Treatment in Delhi
WHY ADORABLE CLINIC FOR ANTI-AGING TREATMENT:
With the help of an experienced, qualified provider, injectable fillers, botox and stem cells anti-ageing treatment can provide natural-looking enhancements to help you feel more confident in your appearance.
If you are ready to learn more about your options, the next step is to meet with a board certified cosmetic surgeon for a consultation in Delhi.
If you are looking for Anti Aging treatment then Adorable Clinic is the right choice.
At an Adorable Clinic, our team of expert skin specialist examines your problems and prescribes the right method to make you the best and younger skin.
Adorable Clinic provides many types of product to help prevent hair loss and balding, which helps to get a fuller head one of the best techniques is Hair Weaving.
Anti Aging treatment in Delhi cost varies from person to person as the skin type and the type of treatment given to the person vary.
Contact us on 097111 50928 to make an appointment, the first consultation fee will be free. Visit us at 30/192, Vikram Vihar, Lajpat Nagar IV, New Delhi, Delhi 110024 or mail us your query our team is always ready to assist you with your issues.
As we have 10 Years of Experiences satisfied thousand (10,000) of Customer with our latest and advanced technology, That is why the Adorable clinic is best for the Anti Aging treatment.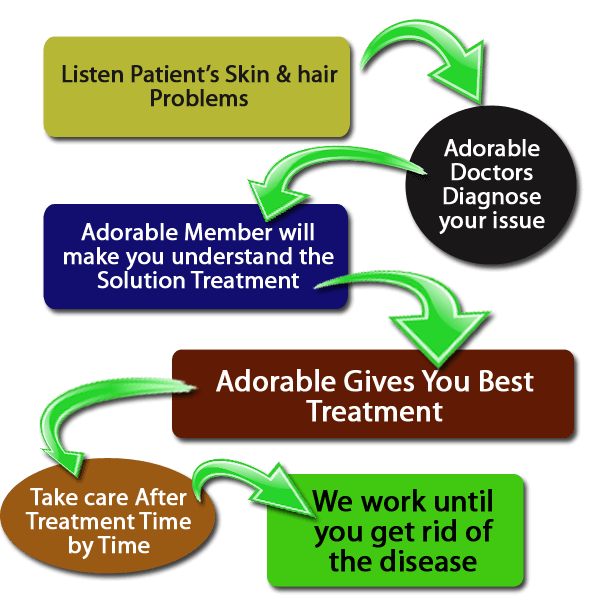 Click Below to Contact Via Whatsapp

The Ageing process:
Aging takes its toll in a number of ways, including expression lines, loss of fat volume, loss of bone structure, gravity, and the big one, the sun damage.
Dermatologist in Delhi says 75% of what you see in the mirror at 50 or 60 is due to sun damage.
There is no one treatment that deals with all skin issues and works for all people, and a cosmetic physician may suggest you have more than one: for example muscle relaxers for forehead lines.
Dermal fillers for nasolabial folds running from the corner of the nose to the corner of the mouth and volume replacement, and IPL or a laser peel for fine lines and skin texture.
Skin treatments For Anti Aging Treatment in Delhi:
Botox Treatment In Delhi:
Botox injections are noted primarily for the ability to reduce the appearance of facial wrinkles and for anti aging treatment. They are also used to treat conditions such as neck spasms (cervical dystonia), excessive sweating (hyperhidrosis), an overactive bladder and lazy eye. Botox injections may also help prevent chronic migraines.
This is how botox treatment is used in many ways and for many health issues, but the procedure is most popular for anti-aging treatment.
Botox injections use a toxin called onobotulinumtoxinA to temporarily prevent a muscle from moving and to restrict the muscles function. This toxin is produced by the microbe that causes botulism, a type of food poisoning.
Botox was the first drug to use botulinum toxin. Other products now include abobotulinumtoxinA (Dysport), rimabotulinumtoxinB (Myobloc) and incobotulinumtoxinA (Xeomin). Each is a little different, particularly when it comes to dosage units, so they are not interchangeable.
Risks:
Botox injections are relatively safe when performed by an experienced doctor. Possible side effects and complications include:
Pain, swelling or bruising at the injection site
Headache or flu-like symptoms
Droopy eyelid or cockeyed eyebrows
Crooked smile or drooling
Eye dryness or excessive tearing
Although very unlikely, it's possible for the toxin in the injection to spread in your body. Call your doctor right away if you notice any of these effects hours to weeks after receiving Botox:
Muscle weakness
Vision problems
Trouble speaking or swallowing
Breathing problems
Loss of bladder control
Doctors generally recommend against using Botox when you are pregnant or breastfeeding. And Botox should not be used in people who are allergic to cow's milk protein.
Select your doctor carefully:
Botox must be used only under a doctor's care. It is important that injections be placed precisely in order to avoid side effects and risks.
Botox therapy can be dangerous if it is administered incorrectly. Ask for a referral from your primary care doctor or look for a doctor who specializes in your condition and in botox and who has experience in administering Botox treatments.
A skilled and properly certified dermatologist can advise you on the procedure and help determine if it best suits your needs and health.

How you prepare:
Tell your doctor if you have had any type of Botox injection within the past four months. Also tell your doctor if you take muscle relaxants, sleeping aids or allergy medications of any medication.
If you take blood thinners, you may need to stop taking them several days before your injection to reduce your risk of bleeding or bruising, it is for a few days.
What you can expect
Before the procedure
Most people do not feel much discomfort during the procedure. But you may want your skin numbed beforehand, especially if your palms or soles are being treated for excessive sweating.
Your dermatologist might use one or more of various methods available to numb the area, such as topical anesthesia, ice, and vibration anesthesia, which uses massage to reduce discomfort.
During the procedure
Botox injections are usually performed in a dermatologist's office. Your doctor uses a thin needle to inject tiny amounts of botulinum toxin into your skin or muscles.
The number of injections needed depends on many factors, including the extent of the area being treated. Botox injections are usually done in a doctor's office and clinic.
After the procedure:
Do not rub or massage the treated areas for at least 24 hours. This may help prevent the toxin from spreading to a different area. You can return to your normal activities right after the procedure.
Results:
Botox injections usually begin working one to three days after the treatment. Depending on the problem being treated, the effect may last three months or longer. To maintain the effect, you'll need regular follow-up injections.
Dermal Fillers For Anti Aging Treatment in Delhi:
Did you know that many visible signs of aging can be traced back to volume loss? As facial tissues thin out, fine lines or wrinkles become etched around the nose and mouth and cheeks look a little hollow.
Dermal fillers in Delhi can replace lost volume to help smooth wrinkles, plump the lips, remove wrinkles from the forehead and restore a more youthful and beautiful appearance. Learn all about injectable filler treatments below.
Dermal fillers are gel-like substances that are injected beneath the skin to restore lost volume, smooth lines and soften creases, or enhance facial contours and to make the face contour.
More than 1 million men and women annually have chosen this popular facial rejuvenation treatment in the world, which can be a cost-effective way to look younger without surgery or any downtime.
How Can Dermal Fillers Enhance My Appearance?
While dermal fillers are casually known as wrinkle fillers, they can do much more than just smooth out wrinkles or fine lines, although they are excellent at this too! Here are a few of the common issues dermal fillers can help address:
Smooth outlines around the nose and mouth include marionette lines, smile lines, and parentheses.
Enhance & restore volume to sunken cheeks or temples.
Vanish The vertical lip lines.
Plump & enhance the lips, fill the lips.
Smooth out a chin crease.
Improve symmetry among facial features.
Choosing a Provider for Filler Treatments:
When selecting a provider for injectable treatments in Delhi, give your decision the same level of care and scrutiny that you would for a surgical procedure.
Non-surgical Dermal filler treatment is still a medical procedure that requires specific training, knowledge and skill to ensure safe treatment and natural-looking treatment.
Choose a provider with extensive knowledge of facial anatomies like skin specialist in Delhi, a well-developed aesthetic eye, and a surgeon's skill and precision.
Whomever you choose, make sure your provider has a proven background in cosmetic medicine as well as training and substantial experience performing dermal filler injections.
Ask to see before & after photos of a potential provider's patients. If a dermatologist or physician's assistant will be performing your injections, that person should be working closely under the supervision of a qualified physician, preferably a board-certified cosmetic surgeon.

Which filler do You need?
With so many dermal filler products on the market, it can be difficult to know which option is best for you without an experienced dermatologist in Delhi.
Each product is uniquely formulated to have a certain texture, density, and injection depth, which means that certain fillers work better for certain areas of concern and certain patients. While your provider will determine what product is best for you.
What to Expect During Treatment:
Dermal filler injections in Delhi are non-surgical and typically completed during an office visit or office hours.
Your initial treatment will begin with a consultation and during which you will meet with your cosmetic surgeon to discuss your concerns and goals.
Pre-treatment consultation:
During your consultation with the dermatologist, your cosmetic surgeon will evaluate your area of concern and review your medical history.
While the risks associated with dermal fillers are minimal or low, you need to fully disclose your medical history prior to treatment, as certain allergies, skin and neurological conditions, or medications can jeopardize your safety or results.
For instance, you need to tell your cosmetic surgeon if you have been taking any medicines (e.g., aspirin, ibuprofen, naproxen) or blood thinners, as these increase the likelihood of bruising.
Your injectable filler treatment:
Just before the actual treatment started, the area will be cleaned, and you may be given a topical anesthetic to numb the area prior to injection.
Many filler products also contain lidocaine, a mild anesthetic, which is intended to help minimize discomfort and lower the risk during and after your treatment. Your provider will then inject a precise amount of filler strategically beneath the skin.
Depending on the product and the areas to be treated, you should be able to notice results immediately after receiving filler injections. Some patients experience mild bruising and swelling, but these are temporary and should subside over the days following treatment.
You will be able to go back to your normal activities right after treatment, but your cosmetic surgeon may ask you to take the day off from exercise or other strenuous activity.
If you are having fat injections:
Facial fat grafting is a surgical procedure and follows a different treatment protocol. Typically, fat grafting is performed as an outpatient procedure.
Using general anesthesia or local anesthesia with sedation. Up to 2 weeks of downtime may be required that is depending on the extent of liposuction performed.
Your cosmetic surgeon will go over what to expect with surgery and recovery during your consultation.
How Long Do the Results Last?
How long the effects of dermal fillers will last depends on the product and the filler, the area of treatment, and the patient.
Generally speaking, the denser the product is and the more deeply it is injected, the longer it will last, although this is not a hard and fast rule for the procedure.
To maintain your results, your cosmetic surgeon will simply repeat treatment with the time, adjusting the amount and techniques as necessary to ensure optimal results.
Hyaluronic acid fillers tend to be the most temporary option, and therefore are often recommended for first-time dermal filler patients.
These will typically last from 6 to 18 months. Injections to the lips will wear out a little faster than those to the nasolabial folds. Certain HA fillers, such as VOLUMA, are formulated to last longer but are usually limited to certain areas, such as the cheeks, and lips.
Synthetic fillers tend to last longer, as they are not absorbed by the body and face. They can be a great option for the right patient, but you will want to be ready to commit to results that will be there for several years and choose an experienced, qualified provider whose aesthetic style you like.
Fat injections are meant to last indefinitely; however, some of the injected fat is expected not to survive.
Initially, your dermatologist may overfill the treatment area, resulting in an initially fuller look that will gradually settle into a more natural appearance.
Get Younger Skin With Adorable Clinic
Stem cells procedure  Anti-aging:
Today, more and more people are turning to stem cell therapy as the ultimate anti-aging treatment, and many physicians say there is a good reason.
Unlike plastic surgery, stem cells rejuvenate from within and address much more than the outward effects of aging.
Countless studies have shown that stem cells replace, re-grow, and repair on a cellular level that goes far beyond simply and looking good.
They can also return more youthful and younger levels of energy and resolve age-related conditions like hair loss, osteoarthritis, and other health conditions.
The basics are, in many ways, quite simple. Plastic surgery can temporarily reduce the outward appearance of aging. But it cannot address the core causes that make usage.
Cosmetic surgery can not restore energy levels or relieve the aches, pains, and degenerative effects of aging.
Stem cells, however, are not simply skin deep. As an anti aging treatment in Delhi, they literally combat the aging process from the cellular even the molecular level all through the body.
And they do all this without invasive, painful surgery or the need for recovery periods of any length of time.
What are Stem Cells?
Stem cells are the essential building blocks of our bodies. They are unique in that they have the ability to change, evolve, duplicate, and adapt to other types of cells and the essence of body regeneration. Stem cells have the potential to develop into many cell types in the body.
They lie dormant in bone marrow and fat stores. Once damage occurs, cytokines proteins in our immune system it sends signals that trigger them.
Stem cells scout out damaged areas and then differentiate into the specific form of cell required to help recovery.
The Stem Cell Facial is a non-surgical minimally invasive procedure to enhance the appearance of aging skin and to look younger.
This all-natural technique combines dermal injections of umbilical derived stem cells, growth factors and cytokines with micro needling/derma rolling.
This is the latest method to reverse the signs of aging by eliminating fine lines, wrinkles, uneven skin tone and adding volume where needed for a naturally youthful and rejuvenated and younger look.
Mesenchymal stem cells (MSCs) are a particular type of adult stem cell that is easy to extract and is not as controversial as embryonic stem cells.
Anti-Aging Stem Cell Treatment:
Stem cell therapies are the ultimate anti-aging treatment in Delhi. They are unique because they use a patient's own stem cells and can be transplanted where they are needed.
Ant Treatments replenish the body with a fresh supply of concentrated stem cells to allow the repair and rejuvenation process in all organs, including skin. This is where the most obvious effects can be seen.
Unlike plastic surgery that addresses surface looks alone and not the cause, stem cells replace, regrow, repair and rejuvenate on a cellular level that goes far beyond looks.
They restore more youthful levels of energy and resolve age-related damage to face, body, and organs.
Anti-aging therapy improves the overall health, strength, and function of organs and cells, making them younger, stronger, and robust. They allow you to be more active and feel younger again. Impressive results have been seen in all age groups, regardless of gender and ethnicity.
The Procedure:
Up until now, the FDA has not issued a blanket approval for such treatment, but are openly encouraging research and scientific evidence. The stem cells must be harvested from the patient and be delivered back as quickly as possible.
Stem cell therapy specialists will examine you, address your key areas of concern, and evaluate the necessary treatment.
The adipose tissue is harvested and put through centrifugation to separate the MSCs and make them highly concentrated.
The serum is injected back into the patient immediately after processing. In some cases where precision placement is needed, an ultrasound-guided injection can be utilized for the procedure.
This outpatient treatment takes only a few hours with no downtime. Mild to moderate discomfort may be felt at the site of harvesting and re-injection. Pain medication is rarely required. Patients can resume normal activities immediately.
Most patients do very well with a single infusion. Others may require two or three more in the span of a year.
Results of Anti-aging Stem Cell Treatment:
Stem cell anti-aging in Delhi therapy is the most advanced and modern approach available for slowing, and even reversing, the aging process in humans.
Moreover, anti-aging stem cell therapy helps strengthen the remaining cells so they last longer, encouraging the new healthy cell growth.
Both male and female adults who have undergone a stem cell infusion report:
Youthful appearance.
Even and brighter skin tone.
Reduced age spots.
Fewer lines and wrinkles.
Reduced fatigue and tiredness and headache.
Improved energy, stamina, and vitality and also sexual health.
Relief from aches, pains, and stiffness in joints
A boost in libido, sexual prowess, and activity.
Healthy weight maintenance.
Greater muscle strength, reduced flabbiness.
Motivation to be active, exercise and work.
Improved mood, happier and healthier outlook.
Many studies show that stem cell therapy can reverse symptoms of age-related degeneration in a safe and effective manner. It gives humans a cellular reboot to keep them healthier for longer.
Benefits of Stem cells Procedure:
The advantages of the procedure include:
A More Even Skin Tone.
Reduced wrinkles and fine lines.
Reduced under eye puffiness.
Added volume where needed.
Reduction of Age Spots
Reduction of Fine Lines and Wrinkles
Increased energy and stamina
Improved Muscular Strength
The Slowing of the Effects of Degenerative Diseases
The skin's elasticity and tightness
The reduction of fine lines and wrinkles
The evening of skin tone through lightening and clarifying
The reduction of sun damage
The reduction of the effects of environmental pollution
The increase in skin cell longevity
Promotion of healthy skin radiance
Adorable Clinic
30/192, Vikram Vihar Near Moolchand Fly Over, Lajpatnagar,
New Delhi
,
Delhi
110024
India
Phone:

+919711150928
Secondary phone: 01146170666
Email: adorableclinic@gmail.com
URL: http://adorableclinic.com/
| | |
| --- | --- |
| Monday | 10:00 AM - 7:00 PM |
| Tuesday | 10:00 AM - 7:00 PM |
| Wednesday | 10:00 AM - 7:00 PM |
| Thursday | 10:00 AM - 7:00 PM |
| Friday | 10:00 AM - 7:00 PM |
| Saturday | 10:00 AM - 7:00 PM |
| Sunday | 10:00 AM - 7:00 PM |

Choosing your Doctor/Clinic:
When choosing a doctor for a cosmetic procedure or for Anti Aging treatment, you could ask for recommendations from your GP or from friends or relatives who have had similar work done. Consider:
Experience and qualification:
Find out how often and for how long they've been doing the procedures. And what degree they have in dermatology science.
Fees:
What are the initial consultation fees? and what are charges for the whole procedure?
Manner:
It is important to feel comfortable with the doctor, and that other staff in the practice are pleasant and knowledgeable.
Some questions to ask your doctor about the procedure is important.