Hair Extension Clinic in Delhi
Hair extension is a low-maintenance, easy, and practical way to achieve beautiful and voluminous hair instantly without the lengthy waiting that growing out natural hair requires.
Adorable Clinic is one of the best Hair Extension boutiques in Delhi that offers a wide
range of products. Hair Extensions have become the hottest addition to the world of hair care and hairstyle.
But you can't just get an extension from anywhere. You need to visit a parlor or salon that offers special extension services.
It consists of 4 to 7 pieces of Hair Extensions that are meant to add overall volume and length. If you are in Delhi and looking to add some length to your tresses, this article is for you! It is also being used by many to 'wear' various styles.
Women have started using human Hair Extensions in different colors to substitute hair coloring as it protects their hair from harmful chemicals.
From clip-on to keratin, you have a myriad of choices when it comes to hair extensions. With high-quality clip-in Adorable clinic Hair Extensions, you can finally have that fuller and longer hair you've always dreamed of.
Instant length and volume. No damage. Super easy to use. If you are looking for frontal volume, this might be your answer such as clip-in hair extensions, machine-weft hair, ponytails, top headbands, keratin tips at Adorable Clinic.
Our body wave hair extension is made from finest quality of hair and can be fitted using various methods like weaving bond, weave and sew-in method or by a cold bonding Hair Extension glue.
Now, anyone can enjoy the pleasures of salon-quality hair without the hassle of harmful chemicals and hair-growth treatments and home remedies.
Hair extensions used to be a luxury afforded to the wealthy and celebrities, who are known for using them as the cherry on top of their chic red-carpet and filmy looks.
Nowadays, professional and quality hair extensions are widely affordable to men and women across the globe.
Things To Keep In Mind Before Getting Hair Extensions
If you are interested in adding a few strands of extra hair to your natural mane. There are a few things that you need to keep in mind before getting the procedure done.
Always get the hair extensions placed in your hair with the help of a professional stylist or clinic. Some of the extensions might look easy enough to do by yourself, but doing so can definitely harm your hair.
The hair extensions that you place it should not be too tight. If you are experiencing any sort of pain or discomfort, immediately talk to your hair stylist and get it rectified.
Always go for extensions that are of good quality, even though they might be more expensive. You do not want accessories in your hair that can cause damage later.
Remember to take care of your natural hair. Hair that is damaged cannot bear much styling, Even if it is only hair extensions. Oil your hair regularly, go for regular treatments and take good care of it.
Well, now that we've got all that out of the way, let's look at the procedure and pros and cons of the different types of hair extension methods.
Procedures for Hair Extensions In Delhi:
Sew-in: 
Sew-ins extension procedure for hair extensions is cost-effective, easy maintenance and fairly easy to remove. The client's hair is braided tightly to create a base for the hair wefts to be sewn and attached.
This technique is not for every client; not all hair types can handle the stress from the braiding and weight of the hair extensions.
Clients need to have the hair retightened over the four months. There are many different textures, colors, and types of hair for clients to pick from and there are many different price points, based on quality, volume, and length.
How Long Does It Take To Attach?
2-4 hours
How Long Does It Stay In?
2-3 Months
Pros
Does not require heat or glue for application, thus reducing the damage to your hair.
You can apply oil or silicone styling products to it.
Ideal for thick hair.
Can last for 2 to 3 months if maintained properly or regularly.
No visible gaps, which makes it look supernatural.
Recommended for people with short hair.
Adds tons of volume and length.
Cons
Not recommended for anyone with fine and thin hair.
The tight braids can cause pain in your scalp and, in extreme cases, traction alopecia.
The heavy extensions can weigh down and cause headaches.
Require a lot of proper washing and maintenance.
If not washed properly, your weave runs a risk of developing a bacterial infection, which is just gross.
The presence of cornrows that need to be hidden limits your styling options.
Need to be removed by a professional.
Clip-ins and other temporaries:
Clip-ins are wefts of hair that are attached to a clip. Clip-ins come in many different sizes so they can be placed all around the head and scalp.
They are great for that client who wants instant gratification for special occasions. Clip-Ins take a short amount of time to put in and around the head.
They can add length and volume in just about every texture, color and price range. They do offer synthetic hair, but we do recommend to my clients that real hair is much easier to style when using heat.
Halos are temporary alternatives to clip-ins. It is for clients looking for length and/or volume. And, they're perfect for someone with hair that cannot handle stress.
Halos have an undetectable wire connected to the weft of the hair. It uses the weight of the client's own hair (which is pulled over the halo) to keep it secure on the head.
How Long Does It Take To Attach?
5-10 Minutes.
How Long Does It Stay In?
You can put them on and remove them whenever you want.
Pros
Easy to apply and easy use.
Freedom to put them on and remove them whenever you want.
You can buy them in multiple colors and styles to change up your look on a regular basis.
Cons
Cannot be left in for extended periods of time as the clips can cause your hair to break
Need to be removed before going to bed
Their cheaper price range means that the hair itself is of low quality and won't last long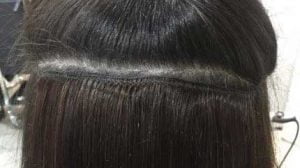 Top Pieces:
Top pieces are great for clients that are thinning on the top of their head. The extension adds thickness and volume to the top of the head/scalp to help camouflage thinning hair.
The ones we have used either have a clip or microbeads keeping them in place. Clients do need to have them retightened from time to time.
Micro link: 
Micro links also known as microbeads or locks, they are gentle to put in and easy to take out. Links can be added for length and volume. There is no glue or heat used when applying.
To apply, a small silicone bead is placed onto the base of the client's hair, with an individual strand of extension that is attached.
Clients do need to be careful not to use conditioner near the bead to help reduce slipping of the extension.
Your guest will have to come in every couple of months to have the extensions retightened. Micro links last about four months.
How Long Does It Take To Attach?
4-5 hours
How Long Does It Stay In?
2-3 Months
Pros
Do not require heat or glue for attachment, hence reducing damage to hair.
The extensions can be uncrimped and reused.
You can slide the extensions up and down to adjust them the way you want.
Blends seamlessly with your natural hair.
Easy to wash.
Cons
Not recommended for people with short or fine and thin hair.
Can cause discomfort and strain on your scalp.
The clamping down of the extensions with the pliers can cause your natural hair to break.
If not removed properly by a professional, it can damage your hair.
Not possible to tie high ponytails.
Tape-in:
Tape-ins can be used for some length, but we use them on clients for more volume and thickness. It takes only a short amount of time to install the extensions.
The guest does need to come in every six to eight weeks to have them removed and reinstalled.
They are applied with a heated tool that heats up a thin strip of glue that is on the hair weft.
The client's hair is put between two wefts to create a seal. They do have to be careful with using heavy conditioners or oils because that can cause slipping of extension.
They are nice for clients because they can reuse the extensions many times before having to order new extensions.
How Long Does It Take To Attach?
60-90 mins
How Long Does It Stay In?
4-6 Weeks
Pros:
With an application time of fewer than 90 minutes, this is the fastest method of applying for hair extensions.
Easy to apply as no heat or other tools are required.
Minimal damage to hair as there's no application of heat required.
Reduces the strain on your head as the extensions are spread over a large area of your head.
Lend a natural look to your tresses as they lay flat against your head.
The extensions can be reused for 6-8 weeks after being removed with solvent and reapplied with the help of more double-sided tape.
Cons:
The adhesive on the tape needs to cure for 24 to 48 hours, so you cannot wash your hair or undertake any strenuous activities that can cause you to sweat.
You cannot apply any silicone based product or oil to your hair as they may cause the extensions to slip down.
Not recommended for swimmers for the aforementioned reason.
Hair cannot be comfortably tied up when these extensions are in.
Fusion:
Hot or cold fusion is used on individual keratin bonds. Fusion extensions are great for clients seeking length and volume and want little maintenance while the extensions are in. The clients can treat the extensions as if it were their own hair.
Fusion extensions might not be suitable for the client that has compromised hair due to the stress it can cause.
It can take about two to three hours to have a full head of extensions put in and last about four months. This is one of the more costly extensions.
How Long Does It Take To Attach?
6 to 8 hours.
How Long Does It Stay In?
4 to 6 Months.
Pros
The most durable method because, with proper maintenance, the extensions can stay in for about 6 months.
Since the keratin dries clear, you can't really see where the extensions have been attached.
Blends perfectly with your natural hair.
Cons
With an application time of 6 to 8 hours, this process is tiresome.
The heat application required for attachment can damage your hair.
Not reusable.
You may experience a headache, discomfort, or itching for a few days after application.
You need to find highly-trained professionals to get this done because if it is not done properly, you could cause serious damage to your hair.
Why Use Extensions?
The benefits of hair extensions are numerous; they can serve as a long-term look or act as a temporary style for those hesitant to fully commit to a hairstyle.
They give you all of the benefits of voluminous, thick hair without the constant upkeep. Some other compelling reasons to use hair extensions include:
The Perfect Cure for Lifeless Hair
Many struggles with dull, fine, or lifeless hair. There is no shame in it, but only a small margin of the population is actually able to naturally grow the luscious locks that hair extensions provide instantly.
Luckily, Anybody can enjoy hair extensions and they are extremely versatile in achieving whatever look you desire while remaining undetectable from your natural hair.
No matter how thin your hair is, extensions at Adorable clinic add significant body and length to complement your unique style.
An Easy Way to Completely Change Your Look
If you are bored with your look lately, Extensions offer an easy solution that can completely change your appearance.
Available in a wide range of real or fantasy colors, extensions at an Adorable clinic are sure to complete whatever glamorous look you wish to achieve.
Whether you have an upcoming wedding, costume party, or other special event, hair extensions are a quick fix that can dramatically improve any style and make you the life of the party.
Recovering from a Bad Haircut? No Problem:
All too often, Inexperienced hair stylists miss the mark when trying to give you the look you desire.
If you were the victim of a less-than-optimal haircut, don't fret. Hair extensions provide instant relief while you are waiting for your hair to grow back after an unseemly cut or color.
Extensions can also disguise damage and dryness from bleach or chemical treatment while your hair heals.
What can I use extensions for?
Hair Extensions are a versatile tool that can help you achieve a variety of hair lengths and styles. Many individuals have trouble growing their hair long and use extensions as a way to instantly achieve the long locks they always wanted.
You can match the hair extensions to your hair color so they will seamlessly blend into your hair, Effortlessly creating stunning looks with long hair.
Additionally, many people also use extensions for volume, an ideal solution for those with thin hair ho want to add body to their hairstyle.
There are endless styles that extensions can help you achieve, whether you want to fundamentally change your style or temporarily try something new.
What kind of styles can I achieve with extensions?
Hair Extension are a multipurpose tool that can help you achieve a variety of hairstyles. Extensions can lengthen hair or add volume, but they may also add color to hair in various ways.
You can add rainbow highlights to brighten your style or employ extensions to create a single color ombre effect while simultaneously adding inches to your hair.
There are countless possibilities of styles you can achieve with a combination of extension lengths, volume, and colors, allowing you to realize any haircut, length, style, and color that you have always wanted.
Is there any upkeep with extensions?
Yes, hair extensions require upkeep to keep them looking fresh, ensure they last for their intended time, and to prevent any possible damage to your original hair.
The upkeep of your extensions depends on the type you receive: synthetic or actual human hair. Human hair extensions need to be washed with sulfate free and paraben free shampoo and gently brushed each day.
With synthetic hair extensions, you need to be careful not to melt the hair when using heating products and to brush the hair gently to keep the extensions in place.
How long will a weave or extensions last:
Stylists recommend a touch-up for weaves after about six weeks, keratin bond extensions last between four and five months.
Micro-loop extensions last several weeks if you can stand the feel of tiny loops close to your scalp, which some find irritating.
What type of hair should you use:
Extensions are made with synthetic or human hair. Expert says people who wash their hair daily should avoid synthetic hair. That said, all human hair comes in varying degrees of quality.
Some manufacturers blend synthetic hair with human hair and there are varying grades of 100 percent human hair. Rem hair is a higher quality because the hair cuticles are stored in its original condition.
How to Take Care Of Your Hair Extensions:
Your aftercare routine will play a vital role in the longevity of your hair extensions, which is why it is so important to understand how to look after your hair extensions correctly.
Separate Your Hair Extension Bonds Daily:
Without a doubt, this is the most important part of your aftercare routine.  At least once a day, preferably in the morning.
You will need to separate each bond with your fingers to ensure they are sitting separately.  This may sound like a long task, however, in reality, it only takes a matter of minutes.
Wash Your Hair Extensions Correctly:
Firstly, you must ensure you are always using the recommended aftercare range for your hair extensions.  
This will ensure that the shampoo and conditioner do not affect the hair extension bonds, causing them to slip or come loose, and does not affect the quality of the hair. 
Brush Your Hair Extensions Gently:
Whether you have just washed your hair, or are brushing it dry in the morning, you must take great care to do this gently.  
Take your time to slowly brush your hair, removing any tangles patiently without pulling on the hair extension.
Never Sleep With Your Hair Extensions Wet
Wet hair can promote tangling and matting, therefore it is very important that you never sleep with your hair wet or damp.  
It is very tempting to fall into bed with semi-dry hair, but your hair extensions will be very difficult to brush in the morning if you do choose to do this, putting pressure on the bonds and the cuticles of the hair.
Secure Your Hair Extensions Before Sleep:
To make your hair easy to brush in the morning, securing your hair extension before you sleep is essential.
This will make styling your hair the following day much easier, stopping you from having to detangle your hair which can put pressure on the hair extension bonds.
Attend Regular Hair Extension Maintenance Appointments:
Always keep up to date with your maintenance appointments. These are recommended every 4 to 6 weeks and are very important when it comes to keeping your hair extensions looking great and being in a healthy condition.  
We would recommend after your fitting that you schedule in with your hair extension technician regular checks every 4 to 6 weeks and that you stick to your appointments.
Looking After Your Hair Extensions Is A Full-Time Job:
Looking after your hair extension is a very important process, and by following these basic steps your hair extensions should stay in the best condition possible throughout the time you are wearing them. 
Always ask your hair extension technician to provide you with aftercare advise after your hair extensions fitting.
Why Adorable Clinic For Hair Extensions and Hair transplant:
At an Adorable clinic, we use Hotheads Hair Extensions because they are less stressful on natural hair than other brands.
We have used Hotheads on women with conditions such as alopecia or cranial scarring with fantastic results.
Although hair extension provides countless benefits, they are only as good as the salon that applies them.
The adorable clinic provides professional, high-end extensions and also provide many products for hair regrowth and hair loss treatment in Delhi done by highly skilled stylists that were carefully selected for their expertise.
To learn more about our hair extension services and book an appointment with one of our expert stylists, call us on +91-97111 50928.