Hair Weaving and Wigs in Delhi
Hair weaving and wigs in Delhi is the hottest property in the wig industry as monofilament wigs give a hundred percent authentic and natural look.
It is made of thin mesh nylon fabric that resembles the natural head. It also maintains the temperature and does not heat your skin.
Therefore, it is the best choice for the people who are facing complete or partial hair loss due to some health conditions and any other reasons and also helps to cure baldness.
Hair weaving is also known as extensions are the most popular way of changing your hairstyle nowadays, Many celebs use this technique to make their hair beautiful and long.
It refers to the techniques that employed for incorporating new hair, either natural or synthetic to the existing hair of an individual.
It is the science of addition of hair to the scalp by weaving or braiding of human or synthetic hair.
Those who are not satisfied with their hair, or want to have a more gorgeous look with long and thick beautiful hair can go for Hair Weaving in Delhi.
The hair is woven to the root area of the person's hair so that it grows naturally with their hair and gives the natural look.
This method allows individuals to get the desired hairstyles by adding more volume and length to their original hair.
People who are facing the problem of hair thinning or balding can mainly opt for this option and therapy.
Hair Weaving Methods:
There are various types of weaving styles out of which bonding, tracking, fusion, netting or net weaving, and tree braiding are some of the most extensively used methods, provide the best results. Either natural or synthetic can be used as hair extensions.
Bonding:
Bonding is one of the most widely used hair weaving technique, where hair is separated into several sections and the pieces of weaved hair are added to the natural hair, close to the scalp by using hair glue.
It is a famous and temporary weaving technique which adds volume or vibrant streaks of color to the natural hair.
This is a temporary method of weaving that does not damage the natural hair, not at all. In order to prevent any kind of damage to natural hair, tracks are removed after few days.
Another form of bonding technique is an attachment of wigs with the help of a medical adhesive. Bonding technique has two types, namely soft bond and hard bond.
Who is eligible for the treatment:
If you have semi-permanent hair loss condition or want to increase the length or volume of your existing hair, you may go for hair bonding procedure.
Who is not eligible for the treatment:
Make an appointment with your hair technician or doctor prior to the hair bonding session, to ensure that you are not allergic to any of the products that were used during the procedure.
Are there any side effects:
Hair bonding done with the use of glue and adhesive may damage your hair in the long run. It may make your hair dry, dull and frizzy.
All these effects can be avoided if you take good care and use prescribed hair products.
What are the post-treatment guidelines:
There are specialized hair products available in the market to be used on bonded weave hair. You must use the shampoo, conditioner, hair gel and serum as suggested by your hair technician or doctor.
Visit your hair weaving center every month to keep a check on the condition of your new hair.
How long does it take to recover:
Hair bonding process can be done in one session that is a few hours long. The results will immediately show and is a quick process.
You may get back to your routine activities from the very next day while following all the instructions provided by the Doctor.
Are the results of the treatment permanent:
The results of the treatment are not permanent. You will have to repeat the sessions of bonding your hair from time to time.
Tracking:
Tracking is another method of integration which involves braiding the natural hair into several tracks across the head. Here, a few concentric circles of braids are created and sewn to the scalp.
Now, the weave or new hair is sewn horizontally across the head to the sewn braids. Normally, hair is braided into cornrows in order to sew the weave hair.
In this technique, natural tresses are initially braided into the cornrows, which are referred to as 'track'.
For a specific tracking, weave comprises few tracks. This type of weaving, however, requires a lot of care and can be properly done only by Hair weaving in Delhi.
On the other hand, a complete head is braided for a full head weaving. In a full head weave, head braids are either sewn or covered with a net.
Thereafter, weaves are sewn to the braids, with tracks depending on the desired look.
Fusion:
Fusion hair weaving is one of the most popular methods of professional hair weaves attachment, mostly because it's the oldest and most traditional method of attaching hair extensions.
Stylists and clients love Fusion because it is trusted and safe, natural, and long-lasting. You'll also hear people call this the "hot fusion" or "glue-in" method (even though our method doesn't use glue).
It is one of those techniques that gives a truly natural look by making the weave completely unrecognizable from the original hair.
Here a machine is used to glue for natural hair strands. For this, the natural hair has to be sectioned off into several small and slender parts or sections.
Then the machine is heated in order to attach the new hair to each of the sectioned hair strands.
But the high heat applied can cause damage and hence, sufficient care and precautions required to be followed after the treatment.
This method is quite expensive and time-consuming, but it can give a natural look and the hair can be washed and maintained as usual and normally.
Nowadays, another technique is available, which is known as cold fusion, which does not require the use of a heating machine that is why it is known as cold fusion.
Associated with the risks of loss and damage of skin burn, the technique has not amassed popularity as bonding and tracking techniques.
Fusion hair can last for about three to six months. As you wear Fusion weaves, your hair will grow as it normally does, and that growth causes the bond and hair weaves to move further and further away from the scalp.
That is why it's important to go in for touch-ups every few weeks so your stylist can adjust the bonds by removing them and re-applying them closer to the scalp.
Removing Fusion extensions is easy. After the solution has been applied for a few seconds, the stylist uses the Hair Extension Tool to break the keratin bond. Once it's loose, the hair extension slides off.
Net Weaving:
It is also the most used or permanent technique of weaving that is especially appropriate for those experiencing thinning or balding.
In this process braiding of natural hair and enclosing a thin film of the net on the braided hair is done.
Now, this net serves as a surface on which the weaves can be woven. It can last for 2 to 3 months but would require proper care and maintenance.
The benefit of this technique is that it does not cause any damage to hair, unlike fusion or other technique.
You can also wash your hair once in a week, provided you dry out your hair completely. In this technique, wefts are woven onto the net without any impact on natural hair's health.
Tree Braiding Invisible braiding also known as tree braiding is a momentary technique employed for hair weaving.
But this treatment can give a completely genuine look, means the weave looks completely natural and beautiful.
To add extensions or weaves, first of all, the natural hair is parted in the middle to create a basic cornrow braid.
Now the artificial is added just at the beginning of the cornrow braid. This procedure is quite a bit tricky and can be done perfectly by an expert hair care professional only.
The artificial hair weaving can completely blend with the natural hair to give a stunning look.
With these techniques integrating artificial hair has become fairly excellent in order to add style, volume, and length to the existing hair.
With the help of new techniques weaving has progressed to a great extent that weaved hair look almost undetectable.
Weaving treatment also requires the help of an expert and certified professional to ensure that no damage is done to your natural hair in the procedure.
Some important tips For Hair Weaving:
Hair weaving is not a permanent solution:
As these hairs are without bulb (the growing center of the hair), it never grows.  Moreover, they tend to loosen and fall with the times; they are glued to the scalp or hairs.  The fibers also get damaged with time.
Even the hair care, washing, revisits to the hair stylist depend on the type of weave being used.
This procedure is not a permanent solution and one has to revisit the hair stylist from one to six month's time.
Therefore, it is not a cure for baldness as weaving can never give you a natural-looking hairline.
Prolonged use can even give rise to skin problems:
Nevertheless, Hair weaving continues to be a popular method to hide a balding scalp. The reasons for the same may be attributed to the following:
Services can be given by non-medical personnel and more available service providers
Quality of hair match and technique has become better with passing years.
Completely non-invasive that means no pain and lesser time required for an individual
High density achievable.
Immediate cost is lesser than hair transplant procedure in the majority of the cases, though the long-term maintenance may be more expensive for this.
Hair weaving is the use of an artificial wig which is applied to the bald area of the scalp. It is artificial attachment, kept in place by clips or other such appliances.
It is a procedure of hair restoration. Both procedures are safe and have no side-effects.
Is Hair Weaving painful?:
Hair weaving can sometimes be painful to have placed in your hair. After the whole head has been braided, the tracks of hair are then sewn into the braids.
This pulling and braiding can be painful, Especially if you are sensitive. New bonded hair extensions may be a better choice if you have a low pain tolerance.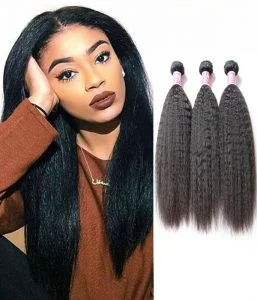 Does a weave damage your hair?
Your real hair is put into braids, and the weave is then sewn into them. However, if you' are not careful, weaves can also damage your natural hair underneath as much as protecting it.
For example, if the hair weaving are glued in or your braids have been created too tight, this will cause breakage.
Spend more for good quality hair:
Cheap synthetic hair weaves can damage your natural hair and can cause scalp irritation. Be alert for human hair extensions which are mixed in with synthetic hair.
Change it up:
Weaves should only be worn for 4 to 6 weeks at a time as your scalp needs to breathe! Wearing the same weave style for more than this time period without washing can lead to unsanitary conditions that can also lead to hair loss.
Care for your natural hair:
It is important to deep condition natural hair before attaching a weave and to look after your natural hair, as traction alopecia can be developed from neglect.
Don't forget your scalp:
Wrap up your weaves with a silk scarf before bed, sports or any activity that would cause sweat and be sure to wash and blow-dry if there is excessive sweat.
Also, treat your natural hair to deep conditioners and scalp treatments as much as you can and let your scalp breathe from time to time.
Will it look natural?
The extent to which your sew in weave will look natural will depend on a couple of factors. The hairdresser's experience.
the quality of his weave installation job, the quality of the additional hair used for a weave and the final cut are the deal-breakers which determine the outcome of the sew in hairstyle and its looks.
Do not buy cheap synthetic hair extensions that shed and tangle easily if you want your weave to look natural and last for a long time.
The maintenance you will ensure at home is quite crucial as well. So, yes, high-quality sew-ins look pretty natural.
What type of hair should you use?
Extensions and weaves are made with synthetic or human hair. Expert says people who wash their hair daily should avoid synthetic hair.
That said, all human hair comes in varying degrees of quality. Some manufacturers blend synthetic hair with human hair and there are varying grades of 100 percent human hair.
Expert says "Remy" hair is a higher quality because the hair cuticles are stored in its original condition.
Will adding extensions damage or break my hair?
Hair weaving in Delhi says it depends on the method used to add your extensions. She prefers weaves or tracks extensions to avoid damaging your hair.
It doesn't pull your own hair out. For women with straight hair, he recommends keratin bondings because their hair won't hold the braids required for a weave.
What type of experience should I look for in a stylist?
Because all states do not require a license to add extensions or weaves, We recommend requesting a consultation with a stylist to discuss the hairstyle you want and the hair type the stylist will use.
Look through the stylist's portfolio and ask if you can watch another client get extensions.
What is the best way to care for my extensions at home?
Hair weaving in Delhi recommend using combs and brushes specially designed for hair extensions to avoid damaging your hair and ruining your hairstyle
How much does it cost to get a weave sewn in?
No one would be able to tell you that for sure. The total price will depend on the amount of hair you will have to buy for your weave, its length and the amount of money your hair stylist will charge you for an installation.
Additionally, natural human hair for a weave costs a lot more than synthetic weaves. The cost will vary due to that fact as well.
A stylist can spend about five hours adding extensions and creating the style you desire, but the cost of the hair makes up the bulk of the expense. If well cared for, human hair can be reused.
Benefits of Hair Weaving:
Fast Results:
A typical, sewn-in weave takes about four hours to complete, Depending on the extent of the weave. This is good news for women who are fickle with their hair and love to change it up.
A weave can even come in different colors, so you do not have to dye your hair with harsh chemicals to get electric pink streaks throughout. The change is immediate and lasts for about three months.
Instant Length:
Women with shorter hair may not want to wait months and years for their hair to grow out. Similarly, some women may have received a haircut that is shorter than they wanted.
In these cases, a hair weave is an ideal solution or treatment you'll be able to get the length, without having to wait for your natural hair to grow.
A hair weave comes in lengths up to 30 inches, so you can get the length of hair that you want, instantly.
Natural Hair Protection:
After years of coloring, perming and styling, add volume, hair can become weak and damaged. A hair weave can help protect your natural hair.
Binding it into the braids means that the hair weave takes all the abuse of styling tools and products and they will be removed in three months.
Your natural hair can take time to be protected while bound. Some women even find that when their hair is damaged to the point of breaking, A weave can help them gain some of their hair strength back.
Less cost:
Hair weaving which is faster and costs less. Hair weaving can be performed by non-medical personnel and other service providers in the field.
The procedure involves the addition of human or synthetic hair to bald areas of the scalp or to a person's natural hair.
Your choice:
Human hair is procured from various sources, cleaned and processed before being sold by the lucrative hair and fashion industry.
The person going for a hair weave can pick the hair type depending on his/her own hair. The person can also select the type of styling, volume, and length.
Less Manipulation: 
This is one of the ultimate advantages of wearing a weave. Manipulation of your natural tresses is drastically reduced which can guarantee retaining more length.
Easier Transitioning: 
Though short hair is extremely beautiful and gorgeous. For women who do not consider transitioning as an option, the Big Chop can be a scary plunge if one prefers longer lengths or is used to a certain look.
True enthusiasm comes from within but a weave can provide an easier transitioning period for a woman who may be debating on eliminating straightening chemicals and going through with the Big Chop. 
More Time Management: 
Unlike myself, let's face it, not everyone is completely satisfied with only manipulating their hair once a week.
Many naturals want more variety during the week concerning hairstyles. Weaves can provide constant manipulation without the stress on your tresses.
Weaves also provide a great option for a highly active and stylish lifestyle.
Assists in Patience of Growth: 
Weaves can assist in the patience of growing your natural hair since your focus is taken away because daily contact with your natural hair is now eliminated or removed which can control your urges in grabbing that measuring tape every 5 seconds to progress new growth.
Protection from the Elements: 
Your weave or extension has now become the cloak of protection for your hair, automatically resistant from harsh elements such as weather, too much sun exposure, and materials from clothing that can cause friction to natural strands.
If wearing 100% human hair you now have the freedom to use heat-based appliances without fear of damage to your natural strands.
Change:
Cut and color with ease. Experimenting with color and cut while wearing a weave is a safe and easy way to play around with different appearance.
Why Adorable Clinic For Hair Weaving and Wigs:
If you are looking for Hair weaving and Wigs treatment then Adorable Clinic is the right choice.
At an Adorable Clinic, our team of expert dermatologist examines your problems and prescribes the right method to make you best looking.
Adorable Clinic provides many types of product to help prevent hair loss and balding, which helps to get a fuller head one of the best techniques is Hair Weaving.
Hair weaving and Wigs cost vary from person to person as the skin type and the type of treatment given to the person vary.
Contact us on 097111 50928 to make an appointment, the first consultation fee will be free. Visit us at 30/192, Vikram Vihar, Lajpat Nagar IV, New Delhi, Delhi 110024 or mail us your query our team is always ready to assist you with your issues.
As we have 10 Years of Experiences satisfied thousand (10,000) of Customer with our latest and advanced technology, That is why the Adorable clinic is best for the weaving treatment.