Hair Loss Treatment Question and Answer, FAQ
Hair Loss Treatment Question and Answer, FAQ
Hair Loss Treatment Question and Answer, Hair loss can affect just your scalp or your entire body. It can be the result of heredity, hormonal changes, medical conditions or medications. Anyone can experience hair loss, but it is more common in men.
Why do people experience hair loss?
Balding, also known as androgenetic alopecia in a medical term, is a hereditary condition that develops in men and women.
Pattern baldness is seen most commonly in men and it occurs because of an inherited genetic predisposition that causes hair to fall out with the age.
At least 50% of men will lose hair during their lifetime and it is sad.  Female pattern baldness also occurs because of genetic inheritance.
It is more common than most people realize with one out of four women being affected at some point in their lifetime like in pregnancy time.
What Causes Hair Loss?
The most common cause of hair loss for both the men and women is heredity. Either or both parents can pass on the gene that causes hair loss.
Normally, men are more susceptible to hereditary loss of hair because of testosterone. When broken down to dihydrotestosterone, it acts as a catalyst to activate the hair loss gene.
Both men and women are susceptible to this condition, which has been labeled as androgenetic alopecia. This means hereditary loss of hair with androgens.
Other reasons for hair loss may be underlying medical or hormonal problems, medications, excessive weight loss, chemotherapy, due to medical issues or radiation.
Also, traumatic injuries, scarring scalp conditions, or burns to the scalp can cause permanent hair loss that can be pathetic for anyone.
Is male pattern hair loss or baldness different from female pattern hair loss?
Yes, the patterns are generally very different from each other but do have their similarities. In female pattern baldness, hair is most commonly lost on the top of the scalp while sparing a rim of hair along the front border.
In women, only 12% will show any temporal thinning, whereas in men this is seen in over 80% as one of the first signs of loss. Like men, the crown in women may thin but the loss is highly variable.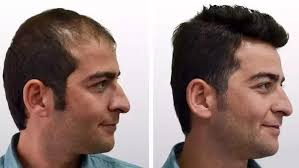 Are there any non-surgical hair replacement options?
There are two drugs approved by the FDA for the treatment of male pattern baldness that is Rogaine and Propecia.
Rogaine can be purchased over the counter at most local pharmacies.  Propecia requires a written prescription from a Doctor.
It is our experience that these drugs are more effective for maintaining existing hair than they are for regrowing previously hair loss.
Although the drugs are marketed as treatments for hair loss, they usually provide little more than limited density restoration.
Does hair transplant surgery result in permanent growing hair?
Yes.  Hair transplant is one of the best therapy for baldness. Hair removed from the safe donor area regions in the back and on the sides of the scalp is genetically programmed to continue growing over the course of a life without being affected by pattern baldness.
The transplanted hair will continue to grow for lifelong as the donor's hair remains vigorous and viable.
Will hair transplant surgery restore my original hair density?
It is not possible to restore hair to its original density for most of the patients because of limitations relating to what can be borrowed from the donor region.
Patients with excellent donor reserves may be able to achieve very high dense hair using a dense-pack surgical technique.
However, density and coverage possibilities vary from person to person and your restoration opportunities can only be determined with a face-to-face expert consultation, as we said every case is unique.
How much pain is involved in a hair transplant procedure?
Firstly, hair restoration applies a gentle, local anesthetic before the surgery. This means that patients will feel no discomfort during the procedure.
Patients may experience minor discomfort or tightness during the healing phase following the surgery.
Most patients remain comfortable during this time with little more than an over-the-counter analgesic like ibuprofen.
Is it really possible to create a natural looking hairline?
Creating a completely natural hairline is the most important aspect of the surgery in hair loss treatment in Delhi. We meticulously plan each hair transplant to provide the most natural hairline possible.
Patients who qualify for hair replacement surgery can achieve remarkably natural results, and they feel so confident.
Are there any risks associated with hair transplant surgery?
There are risks associated with every type of surgery which includes like infection, bleeding, and scarring.
However, complications are extremely rare when the procedure is performed by a competent and experienced surgeon.
There is a bit chance that a patient may not achieve the fullness that he or she expected, which is why patients need to set realistic goals during their hair replacement consultation.
We offer best and moderate Hair Transplant in Delhi and hair fall treatment in Delhi. We ensure high quality and safe care to every patient. As we have the best deals with the best team.
Adorable Clinic provides many types of product to help prevent hair loss or baldness, which helps contains an active ingredient called minoxidil (always read the label), which works by stimulating hair growth and give you fuller head.