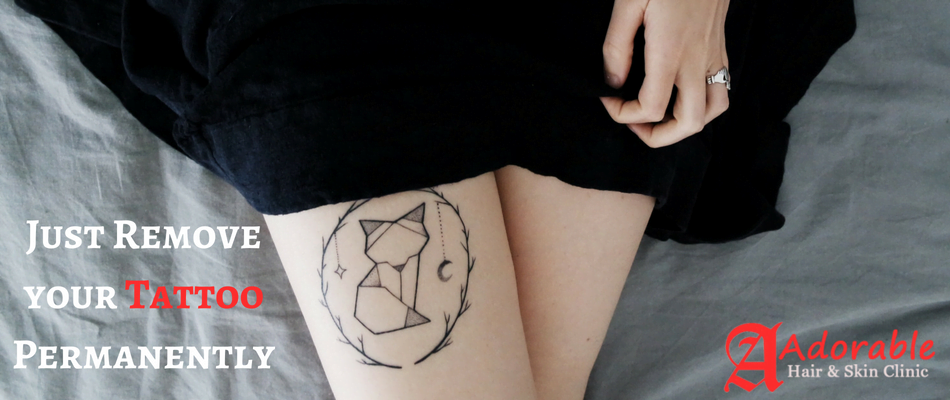 Laser Tattoo Removal In Delhi – Suitable for all Skin Types
Tattoos
So, got a Tattoo and finding it difficult to get rid of it? Not an issue, here you will learn about how to remove different types of tattoos safely and effectively while understanding their pros n cons.People of present time have different perspective of getting a tattoo done for them. Whether it serves as a mark of status, trend, pledges of love, protection, symbol of devotion towards religion or spirituality, decorations for bravery, sensual lures and talismans etc., it is taking up the current rage. But along with tattoo making, a new vogue that has come across is of tattoo removal. There could be any reason for this, as a person may feel the impact or symbolism of tattoos is inadequate.
 Two types of tattoos are there
Amature Tattoo: Tattoo with Black ink
Tattoos with Black ink
Not very deeply penetrated into the skin
Easy to remove. In just 1 to 2 sittings
[contact-form-7 id="544″ title="CONTACT FORM 2_copy"]
 Professional Tattoo
Colored tattoo with black, green, red or other dark color
Deeply penetrated into the skin
Not very easy to remove. Need 3-8 sittings for better results with lasers
For fast results we need surgical intervention with derma abrasion and skin grafting
Laser toning & carbon blasting may further required to improve the texture of the skin after the treatment
All About Tattoo Removal
Tattoos are unique ways of expressing oneself, one's liking, thoughts and feelings. From symbols to people's names and faces, each tattoo has a significance in life. People do tattoos for various reasons. While some casually do it out of a desire, others showcase themselves through their decorative body art. However, certain situations like a career in defense or military, air hostess, civil service and administration doesn't allow tattoos. This is when the very thought of removing those unique body painting comes to people's mind.
Modern tattoo removal processes are one of a kind and are known for its painless and effortless procedures. These are the most convenient ways of removing tattoos along with its markings, from the skin. The contemporary tattoo removal surgeries consist of laser as well as non-laser treatments.



[contact-form-7 id="544″ title="CONTACT FORM 2_copy"]