Chemical Peel Treatment Question and Answer
Chemical Peel Treatment Question and Answer
Chemical peel treatment question and answer, here we will give you all the possible answers to your questions, here we cover most asked question of Chemical peel treatment in Delhi, Let's clear your doubts.
Chemical Peel Treatment Question and Answer, FAQ:
What are chemical peels?

Ageless Remedies medical estheticians apply glycolic, salicylic or alpha hydroxy acids
(AHA), trichloroacetic acid (TCA), or other solutions to your skin disorders. Each solution has a specific role in treating your condition. Those treatments are:
Reduce fine lines and wrinkles.
Reduce hyperpigmentation: age spots and brown patches are known as Melasma.
Treat acne and scar.
Improve the look and feel of skin that is dull in color or has a rough texture.
Reduce the appearance of scars and stretch marks too.
What do chemical peels do?
Chemical peeling agents resurface the skin by inducing a controlled wound and thus removing superficial layers of the skin, to make the skin smooth and beautiful.
As a result, chemical peels promote the growth of a new healthy top skin layer and improve skin problems like hyperpigmentation, fine lines, dark spots and wrinkles, uneven texture and skin impurities.
How will I know which peel to consider?

All skin types will respond to peels. The results depend upon the type of peel and the condition being treated.  A free consultation in Delhi is necessary to establish the goals and options before the treatment.
Will I actually do peel?

In order to improve your appearance, peels remove the upper layer of skin to
expose the new undamaged and beautiful skin.
The amount of peeling depends upon the patient's skin condition, the amount of solution used, the peel's incubation period and the type of peel performed. Some patients experience great results without seeing noticeable "peeling".
How Should I Prepare for My Peel?

Peels expose new skin to the environment.  So prior to the peeling treatment, you should stop using certain photosensitivity drugs like anti-virals or antibiotics and topical skin care products such as Retin-A or acids. Check with our medical estheticians to determine the contraindicators.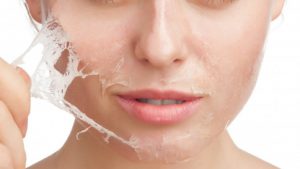 What should I expect?

Ageless Remedies performs several different types of chemical peels.  In the procedure, the skin is thoroughly cleansed with an agent that removes excess oils and the eyes and hair are protected.
One or more solutions are applied to the area that has been treated. During the procedure, most patients experience a warm sensation that lasts about five to ten minutes, followed by a stinging sensation.
Cool compresses may be applied to help eliminate this stinging. You should always inform your technician as to the level of warmth you are experiencing.  A neutralizing solution will be applied to stop the reaction of the peel.
Peels usually take from 30 to 45 minutes. They can be used for treatment every 3 to 4 weeks. Chemical peels generally cause the skin to exfoliate. Some patients peel and others do not.
If you peel, it would begin 36 to 48 hours following the treatment and continue for a couple days up to a week, depending upon the depth of treatment and the amount of skin to be sloughed.
The chemical peel results in exposing smooth, unblemished skin for a clean softer look.
Can skin rejuvenation through chemical peels be performed on areas of the body?

Yes why not, Areas that have acne breakouts, scarring, hyperpigmentation, and other skin concerns can be treated with a peel.
These areas include the arms, hands, back, shoulders, neck, chest and of course, the face too.
Does having a chemical peel hurt?
No, not that much. The patient may feel warmth or a light stinging after the peel is applied. This occurs when the peel has been activated and will subside when it is neutralized 10 – 15 minutes.
Is there downtime with a peel?
The skin may feel like it has had a mild sunburn from 2 to 48 hours after the therapy.  There is no downtime other than your personal concern about the amount of peeling you want to show the outside world.
If you peel, it normally will start 36 to 48 hours after the treatment and may continue for an additional 2 to 10 days.
How long is the recovery after a chemical peel and what type of care is necessary?
Recovery times will vary based on the type and strength of the chemical peel. Immediately after the peel, your skin will feel tight and maybe red.
Any visible peeling will be light and fluffy and easily controlled with moisturizer. Peeling usually lasts for 3 to 5 days, depending on the actual peel treatment.
Use of gentle cleanser, moisturizer and sunscreen are so much important, as it will enhance the healing process and results.
Normal activity may be resumed after the peel, however, strenuous exercise and heavy sweating should be avoided for 2 to 3 days.
Sun exposure should be avoided while skin is peeling; exposure of treated skin to a lot of heat should also be avoided as it may induce swelling, redness and for deeper peels blisters scarring, under the skin.
Peeling skin should be allowed to slough off naturally; picking or peeling of flaking skin is prohibited, as it may lead to scarring. Use of prescription topicals should be avoided for 3 to 5 days post peel.
Why did I not have any visible peeling after my peel?
The success of the peel should not be judged by the amount of chemical peeling, but by the end results that the peel will produce.
The amount of peeling may vary depending on individual skin condition at the time of the peel or the depth of the peel.
What are the counterindications to chemical peels?
Chemical peels should be avoided if any of the following conditions are present:
Active cold sores, herpes simplex or warts, tags in the area to be treated.
Wounded, sunburned or excessively sensitive skin.
Accutane use within the last year.
History of recent chemotherapy or radiation therapy.
Allergies to aspirin.
Women who are pregnant or actively breastfeeding.
Patients with Vitiligo and dermatitis.
Patients with a history of autoimmune disease such as rheumatoid arthritis, psoriasis, lupus, multiple sclerosis etc or any condition that may weaken their immune system
What can I expect after the 1st 24 hours after the peel?
Your skin will feel tighter and be more red than normal. Your skin may feel tacky and have a yellowish orange tinge that subsides in a few hours.
This is due to the Retinoic acid applied to the skin. This is a self-neutralizing peel and patients should wait for at least 4hours before washing there face that evening.
When will my skin start to peel and for how long?
Peeling will generally start 48 to 72 hours after your treatment and can last 2 to 5 days. It is very important not to pick off peeling skin.
Chemical peeling is minimal and easily controlled with moisturizer. Premature peeling of the skin will result in dry, cracked, raw skin that may develop into hyperpigmentation.
May I exercise after the peel?
Exercise that produces a lot of heavy sweating should be avoided the day of the chemical peel. You may resume all regular activities the next day.
How do I care for my skin after the peel?
Use of a soap-free gentle cleanser shall be used to wash your face, scrubs and washcloths should be avoided while skin is peeling, you have take care of your skin.
Application of a hydrating moisturizer twice a day or as often as necessary is recommended to relieve dryness and control peeling.
A physical Sunblock must be worn daily. It is best to avoid prolonged sun exposure for 1-week post peel.
Vi PEEL:
The VI peel combines the strongest and most effective acids suitable for all skin types and tones.
It is a blended peel formulated with Trichloroacetic acid (TCA), Salicylic acid, Retinoic acid, Phenol, and Vitamin C. This is a great peel for treating hyperpigmentation, aging skin, and acne.
How many Vi peels will I need?
A single peel will add a healthy glow, improving skin tone, texture, and clarity of the skin. It reduces or eliminates hyperpigmentation, sunspots and softens fine lines and wrinkles.
The number of treatments varies by individual needs and cases and conditions and will be determined by our medical aesthetician.
For extremely damaged skin, the VI peel can be done once a month for the quickest results. For most patients, 2-3 VI peels a year is all you need to maintain your results.
What will I look like right after the VI peel and how much will I peel?
Your skin will look slightly tan or bronzed immediately after the peel treatment due to the retinoic acid. This fad within the hour.
Over the next few days, your skin will feel tighter, any pigmented areas may appear slightly darker at first.
Skin peeling usually begins by day 3, it is a light fluffy peeling and is easily controlled with moisturizer.
In some cases, the peel is virtually invisible. Patients on Retin-A may experience heavier peeling. By day 6 to 7 you will be done peeling and your skin will look amazing.
Are there any restrictions of activities after the VI peel?
We recommend avoiding heavy sweating for the first few days after the peel treatment. Normal activities may be resumed immediately after the peel.
Its advisable to keep sun exposure to a minimum when the skin is peeling. SPF is a required daily, uses sunscreen.
Skin specialist in Delhi is the answer to your all skin disorders. Skin is an important part of your body which reflects on your appearance and personality. To remove all your skin disorder make a call at the Adorable clinic
Best Dermatologist in Delhi is the best to have A healthy, beautiful and glowing skin is the secret behind one's confidence and beauty.