Cryo Sculpting Treatment Cuts Your Fat Just In Few Minutes
Cryo Sculpting Treatment Cuts Your Fat Just In Few Minutes
Cryo Sculpting is a body slimming technique in Delhi that uses controlled cooling to reduce fat bulges include love handles and tummy fat. This procedure is the most advanced technology for instant fat loss available in the world.
The term cryo means "icy cold" and sculpting means "shaping up", So cryo sculpting is shaping the body by cooling certain body areas. During this procedure, the body fat cells are treated for approximately one hour.
The fat cells that are exposed to the cold will disintegrate in a treatment of natural cell death also known as apoptosis.
The lipids that are released in this process are progressively eliminated by natural metabolic activities over 3 months following the process.
Workout in a daily basis during this period helps in optimizing their elimination. Cryo Sculpting affects only fat cells since they are more sensitive to the cold than other cells.
Hence fat is removed while your skin, muscles and nerves remain intact. This non-surgical technique offers an alternative to liposuction for those who wish to avoid the risks and recuperation time that comes with undergoing surgery.
Each treatment lasts one to two hours and it is quick process. So you can easily fit your appointment into a lunch break. After one visit, you'll typically see a noticeable reduction of fat.
No knives. No suction hoses. No needles. No scars. Once crystallized, the fat cells die and are naturally eliminated from your body in a few months and you lose circumference gradually and have a fit body.
There is no recovery down time after the treatment. Patients may resume normal activities on the same day as their procedure, including work and exercise.
How does the procedure work?
The oval hand piece is placed on the area being treated. It contains a suction mechanism that will draw and hold the fatty bulge between two cooling panels.
These panels then extract the heat out of the tissues. During the treatment, the device maintains a temperature of -5°C to 0°C.
A Cryo Sculpting session lasts approximately 1 hour per zone and must be preceded by an anesthetic consultation with one of our dermatologist in Delhi.
The Cool Sculpting procedure is completely non-surgical, So typically you can return to normal activities immediately after the treatment.
Patients often return to work on the same day after a Cool Sculpting treatment is completed and they can go back to their normal activities.
Understanding patient:
Your Cryo Sculpting dermatologist in Delhi will work with you on the best treatment plan tailored to your needs.
It may take as little as one office visit to achieve your desired look With different applicators to choose from, your dermatologist can design a treatment plan that can give you your desired results.
Who is the Ideal Candidate:
The Cryo Sculpting procedure can help both women and men get rid of those stubborn bulges from any body part.
The non-invasive treatment works on those pesky love handles that nobody really loves and even that double chin or you fatty face you see in the mirror every morning.
Who should not go for the Treatment:
You should not have the Cryo Sculpting procedure if you suffer from cryoglobulinemia, cold agglutinin disease, or paroxysmal cold hemoglobinuria.
The Cryo Sculpting procedure is not a treatment for obesity and obese people. As with any medical procedure, ask your dermatologist if the Cryo Sculpting procedure is right for you.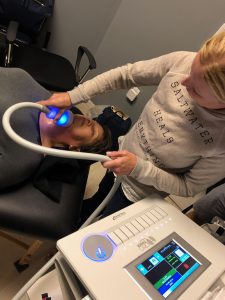 What areas can be treated?
The area that can be treated with the procedure are, Tummy, Love handles, Back, Hips, Arms, Thighs, double chin and others.
The treatment can treat visible fat bulges under the chin (sub mental) and jawline (sub mandibular).
Freezing away fat from a double chin is as easy and tolerable as using the Cryo Sculpting procedure in other parts of the body.
It is also FDA-cleared to affect the appearance of lax tissue with sub mental area procedures.
With Cryo sculpting treatment for a double chin, patients see results after just 1 to 2 sessions. And with no surgery, and little to no downtime.
How many sessions are required?
This depends on the thickness of the fat bulge. Normally, 1 to 2 sessions per zone are sufficient, performed at a minimal interval of 2 to 3 months.
The treatment can treat a patient in 35 to 60 minutes, some patients have more than one treatment during the same office visit.
Eliminate fat where the bulges are:
For some people, a customized treatment plan may include more than one cryo sculpting treatment in Delhi.
For example, you may want to freeze away fat from your inner and/or outer thighs and  then also get rid of that muffin top.
Some practices have multiple Cryo Sculpting systems and can treat different body areas at the same time.
Are there any side effects?
Immediately after a Cryo Sculpting session you will see redness and mild bruising may appear over the treated area.
During the treatment, you may experience sensations of pulling, tugging, mild pinching, intense cold, tingling, stinging, aching, and cramping at the treatment site. These sensations subside as the area becomes numb.
Following the procedure, have typical side effects include temporary redness, swelling, blanching, bruising, firmness, tingling, stinging, tenderness, cramping, aching, itching, or skin sensitivity.
The sensation of fullness in the back of the throat after sub mental area treatment. These effects are temporary and generally resolve within some days and weeks.
About 3 to 5 days later, temporary edema, soreness, tingling and numbness of the skin may be experienced on the treated fat layers and may last a few weeks after some time it will vanish.
These side effects do not occur in every case and vary from one patient to another one, cause everyone has different body style.
Can treatment result in nerve damage or permanent numbness?
Cryo Sculpting treatment is very selective in killing fat cells while sparing other structures. Clinical studies indicate that the treatment does not cause any nerve damage or permanent numbness.
Why Adorable Clinic:
Adorable clinic is one the best clinic for body slimming treatment in Delhi. If you want to reshape your body and want to contour body cryo sculpting treatment is best for you, to make an appointment with us call on 097111 50928.