Radiofrequency For Wart Removal, Procedure, Guidelines, and Cost
Radiofrequency For Wart Removal, Procedure, Guidelines, and Cost
Radiofrequency is one of the best treatment for wart removal. Warts are basically an overgrowth of superficial layers of skin, triggered by a contagious viral infection.
warts known in medical terminology as papillomas, they may emerge anywhere on the body, depending on the specific strain of the virus that causes them to develop in the body.
Although warts are not inherently painful, wart removal can be a challenge especially if they tend to recur frequently and appear in significant numbers because of the appearance many people want to get rid of from it.
The ideal technique would be quick, simple, and demand little by way of pre-treatment and post-treatment care and, as with any procedure, aim to keep blood loss and recovery time to the minimum.
RF or Radiofrequency is also known as Radio Surgery or Radiowave Surgery is a highly favoured treatment for removing warts, moles and skin tags.
It involves the passage of radio waves into the skin to perform the removal or reshaping of a lesion. Radiofrequency uses a low temperature, high-frequency energy radio waves to cauterize warts and moles.
Radiofrequency treatment can cut and coagulate simultaneously without any need for applying pressure. This procedure has gained importance since it is easy to perform and quick.
Bleeding after the treatment is minimal and so is downtime. Radiofrequency is practically free of side effects and complications.
How Radiofrequency treatment works:
RF works on the principle of using tissue as resistance against high-frequency radio waves delivered at low temperatures to remove warts.
When a high-frequency wave passes through, the tissue resists its passage, thereby creating heat.
This heat increases the inner pressure within the mass of tissue by taking the intracellular water to way above boiling point and then the increased pressure makes cell walls break, creating the cutting effect.
When the water in the intracellular tissue vaporises, the heat spreads, coagulating tissue proteins.
Which in turn brings about haemostasis or stoppage of blood flow, without actually having to burn the tissue as is generally required during such treatment.
A variety of electrodes are used depending on the type of warts and moles, e.g. fine needle, a wire loop or scalpel blade, among others.
Who is eligible for the treatment:
Any individual who wants to get rid of warts and moles may consider the radiofrequency treatment for removal of warts.
Even though adults can manage warts, children often get hurt by picking or biting warts which cause excessive pain and irritation but before deciding on anything, it is recommended to consult with the best dermatologist in Delhi who can guide you better.
What can you expect:
Mild discomfort could be experienced during the procedure, which is contained after applying an anaesthetic cream. In certain cases, however, a local anaesthetic may be injected with a small needle.
RF wart removal will give you a bit of swelling, bruising, dryness and redness in the area where the treatment was carried out but after some time it will vanish.
There will also be tenderness for a few days till the area recovers. However, thanks to tissue coagulation.
It is unlikely that there will be any bleeding during this treatment or anytime after. Healing is faster too.
Wart Removal treatment in Delhi is simple, safe and effective. However, while you can look forward to getting rid of existing warts, the treatment does not address the underlying causes, and so cannot prevent a recurrence.
Precautions:
Do avoid this treatment if you are pregnant and if you have any medical history.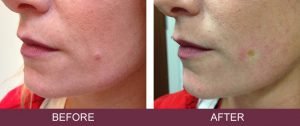 Post Treatment Guidelines:
Although pain and discomfort should be minimal or least, some patients may feel the need for pain relief. Do check with your dermatologist before taking any painkillers.
Avoid touching the area as far as possible or it recovers.
Avoid exposure to harsh sunlight or exposure of sun during recovery, and stay away from dusty or sandy environments for at least x days.
Since this will be a scab that must eventually fall off, is it advisable to keep the area dry for 2 to 3 days after the treatment?
What is the cost of treatment:
The cost of wart removal in Delhi varies according to the treatment option. It also depends on the number of warts that have to be removed and yes, the number of sessions also counted.
The patient has to come for several sessions of wart removal for desired results and so the cost keeps on adding up.
Are the results of the treatment permanent:
The treatment of warts removal can have permanent results although one may need several sessions to achieve the desired results depending on the individual conditions of the patient.
Besides administering the treatment for warts, it is also important to strengthen the immune system so that the body can combat the virus causing warts and help to fast recovery.
Do warts recur:
In spite of the best efforts by a dermatologist in Delhi, warts may recur. Recurrence rates vary from as low as 1% to as high as 50% depending on the type of procedure and type of warts.
Warts in the beard area may recur due to shaving and may need multiple sessions of wart removal treatment and avoiding shaving during the treatment period.
Underlying health issues which can affect the immune system, like cancers and HIV must be ruled out if you have recurrent warts and may require blood tests.
Why Adorable Clinic For Wart Removal:
If you are also irritated with moles and warts and want to remove it. The adorable clinic provides you with the best treatment for wart tag removal in Delhi.
We also treat other skin disorder like laser hair removal, tattoo removal, stretch marks removal, pigmentation removal, vitiligo removal, eczema removal, vitiligo removal and many more.
We have experienced and best dermatologist in Delhi as we have 10 years of experience in the field we gave you the best treatment with the best offers, to make an appointment call us on 097111 50928.