Hair Weaving Procedure and Its Advantages
Hair Weaving Procedure and Its Advantages
Hair weaving for human hair has the benefits of allowing you to style, colour and wash it as if it was your natural hair and make your hair long and thick.
Matching your texture and or colour is easier for the stylist as well. Some women even choose this route so they can experiment with funky haircuts.
This goes double for those women who want quick weave short hairstyles. The weaving techniques are netting, fusion, bonding, tracking, lace extensions and micro braiding to name a few.
The technique helps patients suffering from baldness especially if there is extensive balding as in alopecia areata totalis. The treatment will best be suited.
Hair weaves are made of human hair or synthetic hair. Human hair is hair that women have donated or sold.
Synthetic hair is made of man-made materials and is usually less expensive than human hair.
In general, synthetic hair is not recommended for full hair weaves this type of weave does not move or bounce the way human hair does.
Synthetic hair is best for clip-in pieces that women wear for short periods of time. Both human and synthetic hair weaves are available in many different colours and length, from those that are natural shades to bright shades such as green and blue.
With a hair weave, you have instant length and volume. You also benefit from lower maintenance, as you do not have to do much to weave hair, especially if it's already curled the way you prefer, or coloured.
You can experiment with colour, by using different weaves, without risking potential damage to your natural hair. You can try out different textures.
Women with straight hair can wear curly hair weaves, and curly-haired women can try out straight weaves.
Fast Results:
A typical, sewn-in weaves take about four hours to complete, depending on the extent of the weave. This is good news for women who are fickle with their hair and love to change it up.
A weave can even come in different colours, so you don't have to dye your hair with harsh chemicals to get electric pink streaks throughout. The change is immediate and lasts for about three months and more.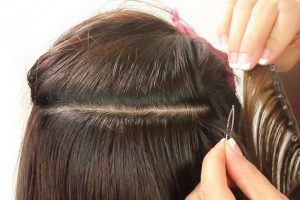 Instant Length:
Women with shorter hair may not want to wait months and years for their hair to grow out and not everyone has the long hair length. Similarly, some women may have received a haircut that is shorter than they wanted.
In these cases, a hair weave is an ideal solution, you will be able to get the length, without having to wait for your natural hair to grow.
A hair weave comes in lengths up to 30 inches. So you can get the length of hair that you want, instantly.
Natural Hair Protection:
After years of colouring, perming and styling, hair can become weak and damaged. A hair weave can help protect your natural hair.
Binding it into the braids means that the hair weave takes all the abuse of styling tools and products and they will be removed in three months.
Your natural hair can take time to be protected while bound. Some women even find that when their hair is damaged to the point of breaking, A weave can help them gain some of their hair strength back.
Low Maintenance:
Maybe you do not have a lot of time to spend styling your hair and are looking for low-maintenance options besides a short cut.
Wearing a hair weave will allow you to style your hair in a hurry, perfect for time-crunched mornings.
Synthetic hair comes pre-styled, so all you really have to do is fluff it and go. Human hair weaves offer more versatility than synthetics, but are still generally easy to care for.
Low Commitment:
Weaves are designed to be worn for a short amount of time, anywhere from one day to a couple of months. Unlike a haircut, which you have to wait on to grow out, hair weaves are low commitment options.
If you are not crazy about how your weave style looks on you, you can either ask your stylist to change it up or remove it.
You are not stuck with a weave forever, which is perfect for women who like to switch things up often.
This also works well for ladies who like frequent colour changes now you can have blue streaks one week and pink ones the next, with no fear of damage or upkeep.
Experimentation:
Now you can experiment with colour without worry of damage to your own hair. This can be especially helpful to women who have to be careful about the types of chemicals they use on their locks.
Platinum blonde is a particularly harsh shade for black hair. So being able to weave it in, while your hair stays protected, is a great benefit for those of you who've always wondered if blondes really have more fun.
To make your hair lengthy, thick and beautiful hair then Adorable clinic will provide you with the best service. We are also an expert in Hair transplant in Delhi, Hair weaving in Delhi, Hair loss treatment in Delhi and other related skin and hair related problems. Call us on 097111 50928 to make an appointment.